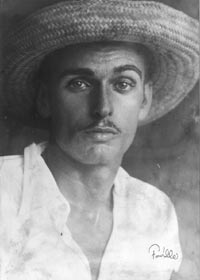 THEODORE FONVILLE WINANS

Born in Mexico, Missouri on August 22 1911, Theodore Fonville Winans bought his first camera, a Kodak 3A, on impulse and soon after won a local photographic contest.

He first arrived in Louisiana as a young construction worker and was captivated by the exotic feet of the state.

"It was absolutely fascinating to me, it was like being in the darkest Africa... alligators, palmettos and Spanish moss. I tell you, it really grabbed a hold of me. To me it was pure adventure, I loved it." Fonville Winans.

In the late 1930,s Fonville settled in Baton Rouge and began his career as a professional photographer. A favorite destination , on his many excursions was the small fishing village of Grande Isle, located south of New Orleans on the Gulf of Mexico.



It was here that he captured some of his most enduring and acclaimed images. Over the next fifty years, from his studio at 667 Laurel Street, he was to photograph nearly every governor, as well as many of Louisiana's most prominent citizens.


Fonville began his career as a professional photographer in the late 1930's and for over fifty years traveled the highways and byways of South Louisiana photographing the people and places that define this unique and diverse culture. His many celebrated images have appeared in numerous publications including a book on his life and work entitled Fonville Winan's Politics, People, and Places. A PBS special, "The Cruise of the Pintail", chronicled his journey through South Louisiana on a small boat using a 16mm camera to record his travels.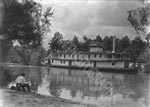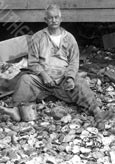 His work has been honored with exhibitions throughout the world, including; Los Angeles, London, Paris and Angers, France.

In 1990, The Foundation for Historical Louisiana presented Fonville with its prestigious preservation award for his enduring visual record of Louisiana's culture.

Since his death in 1992, collector's have paid thousands for his vintage prints. His entire collection is now archived in the Louisiana State University Libraries Special Collections Department.

If you have a personal remebrance of Fonville you'd care to share, please e-mail it by clicking on Fonville Notes

Fonville was downright daring in his familiarity with his subjects. He made people feel at ease, and his acumen with the camera brings them to life today.

I met Fonville in the late 1980's in the later years of his life - I was living down the street from his studio in downtown Baton Rouge (I was at the time a TV director/producer for LSU). He would walk by my apartment every evening, and one day he stopped and struck up a conversation. He told me about his photography, and we talked for a good while about it.

His studio was on the corner of 7th and Laurel, downstairs. (Upstairs was once the Capitol Lodge Masonic Hall) It had a quaint look about it, with big windows all around.

I went to his studio several times to see his photographs, but was not able to find him in. I could see walls covered with every sort of imaginable scene, cypress and pirouges, sugar cane and street people - it impressed me as being a real studio and I tried to imagine this old gent dashing around taking pictures. I am embarrassed to say it was a bit of a stretch for me. Look at his self prortrait above, though, and ask yourself; What was the stature of this man?

As we look through his eyes today at the Louisiana of long ago, we see someone with a wonderful grasp of fleeting moments, of significance sown in the wind.

As the years have gone by, and his legend has grown, his portfolio remains an alluring memory of the most unusual American culture ever seen.

Ted Baldwin
Creative Director
3rd Coast Digital Films